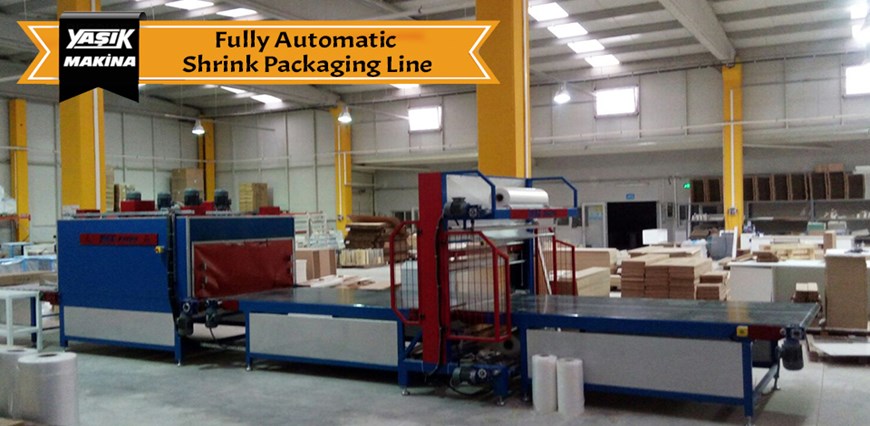 Fully Automatic Shrink Packaging Line
FULL AUTOMATIC SHRINK MACHINE
Machine features:
Shrinkable max package width: (W) 1300mm (may vary on request)
max package height that can be shrunk: (H) 400mm (may vary on request)
-Max package size: 2300mm
-Machine Total size: 11.5m (Approx.)
-Machine width: 2.5m
- adjustable belt speed max: 14m / min (adjustable according to package size)
- Number of packages per hour: 40 - 300 pieces / hour. Packet size and width nylon micron and package heights are very influential on this issue.
- whether it is PLC control control panel or automatic control control panel
-7 '' touch screen makes all controls and settings very easy (PLC controlled)
-The drive system with speed control in the pre-tape, inter-tape and in-wafer tapes
-The work order is sensor and time-controlled
-Automatically shrink nylon wrap on product
-Automatic cutting
-Product transfer into the oven with automatic intermediate tape after the part
- Lower and upper nylon tension system. Sensor controlled
2 pieces of upper and 2 pieces of lower pieces, total 4 pieces of max300mm diameter nylon can be put
- sticking time setting
-Adjustment Temperature setting
-clamping jaw pneumatic control
-Manually use the set functions
- Intrinsic design with dual circulation fan system and air duct for homogenous heat supply
-4 oven circulation fan with homogenous temperature
- serpentine chrome nickel resistances for better spreading of heat with low consumption
- ** special adhesive-free silicone covered roller chain OVEN tape
-Basic oven insulation
-shrink tunnels 50-200 ° C digitally adjustable
- Oven outlet 2 units Product cooling system
Product images