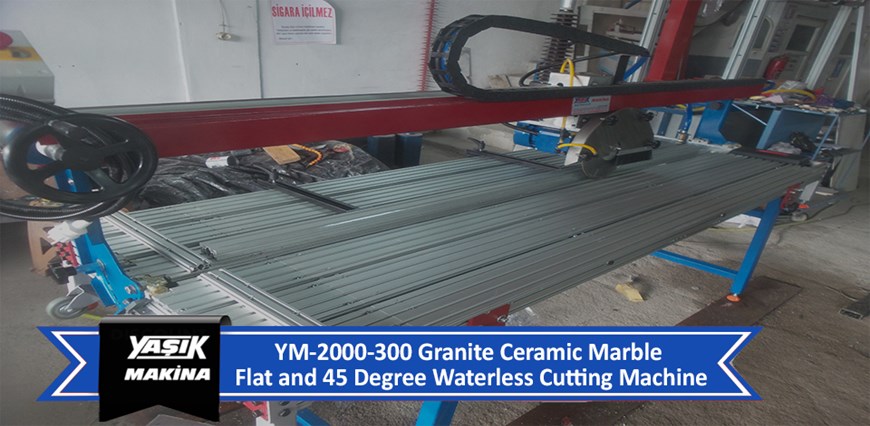 YM-2000-300 Granite Ceramic Marble Flat and 45 Degree Waterless Cutting Machine
Technical specifications
Granite, Ceramic, marble, natural stone, brick, fibercement, sinterfleks and so on. For products Watery cutting machine (side cutting)
Can work with 220 volts.
Machine Type: YM 2000-300 2.2kW / 220V
Machine Dimensions LxWxH: 2650mmx1100mmx850mm (with raised legs folded)
Straight cut length: 2000mm
Flat cutting Thickness: 75mm
45 ° Angle cut length: 2000mm
45 ° Angled cutting Thickness: 35mm
Cutting Motor Power: 2.2 Kw / 3HP 2800rpm / minute
Water Pump: 0,37 Kw / 220v
Cutting Progress: Operator adjustable by manual wheel according to material hardness and thickness
Water system: continuous water circulation with the water collection reservoir
Disc cooling: longer cutter life thanks to the diamond cutter disc cooling system with plenty of water
Rail system: Since the machine is hardened by induction and chrome plated, it gives very long and precise rust-free operation.
Cutting disc: Diameter 300mm Core diameter 60mm Diamond disc cutter.
Portability: practical Easy to carry thanks to foldable long feet and small wheels
Motor protection switch start and Emergency stop buttons to prevent engine burning
Special filter system to prevent sediment in water motor
Stainless steel disc protection
45 ° angled cutting
Aluminum strong and light chassis
100% domestic production.
Fast supply of all kinds of spare parts
Next to all our machines
1 piece Diameter 300mm quality diamond cutter disk.
For the machine The tool kit with all the key sets required
1 artificial leather working apron is given as a gift